Trending...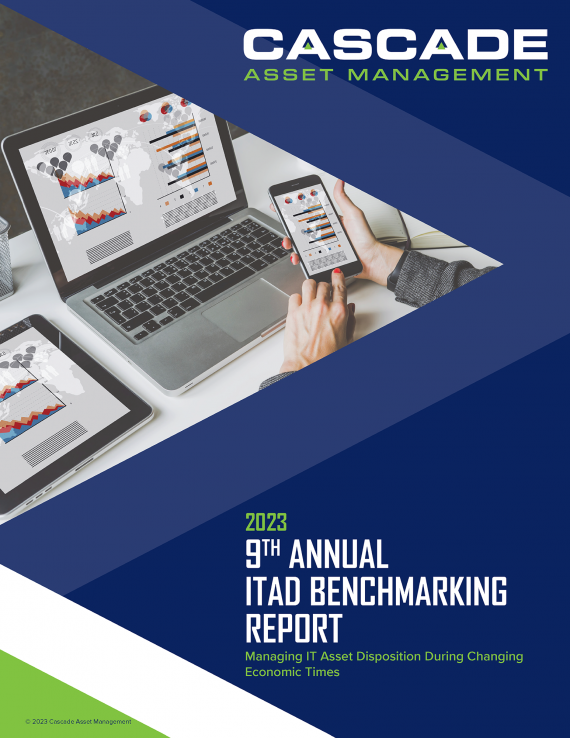 The annual publication highlights the latest trends in customer service, managing assets for a remote workforce, and equipment resale prices
MADISON, Wis. & ORLANDO, Fla.
-
Michimich
-- Cascade Asset Management (Cascade), a national leader in information technology (IT) retirement solutions, has published its ninth annual benchmarking report. New observations in this year's report include the rising importance of customer service when choosing an IT asset disposition (ITAD) partner, followed closely by managing environmental risks. Those companies surveyed for the report stated the remote workforce trend continues to affect their IT management programs, especially in terms of returning used assets. The publication also addresses how economic changes are lowering the resale prices for used IT equipment and mobile devices to pre-pandemic levels.
Results were compiled from a survey of 54 enterprises and organizations collectively representing over 231,100 employees and 12 industry sectors. Additionally, Cascade evaluated the processing of more than 1.2 million assets between 2019 to 2022, including desktops, notebooks, tablets, smartphones, and servers.
When asked what was "critically important" when selecting an IT asset disposition (ITAD), survey respondents ranked "Managing Data Security and Privacy Risks" as number one. In fact, this option gained forty more percentage points than the second-place choice: "Quality of Customer Service." Considering IBM's estimate of $9.44 million as the average cost of a data breach in the United States in 2022, coupled with continuing press attention surrounding the Morgan Stanley breach, it appears organizations are taking data security very seriously. In addition to rating data security as critically important, several respondents offered comments on the matter. Among their concerns were a secure chain of custody when assets are removed from their facility, meeting internal security policies, disposing of equipment with a reputable firm, and recycling items responsibly.
More on Michimich.com
The remote workforce trend continues to impact an organization's IT management program. Results for the question, "how many employees do you expect to work from home a year from now," was 36.9%, up from 30.1% last year. With more employees working remotely, managing devices that are scheduled for replacement, retirement, or disposal takes on more variations. The two most popular answers for managing returns were bringing the item to the company or returning it to a consolidated company location. Some respondents commented that the plan of action depends on the employee's location in relation to the company.
Another topic highlighted in the benchmarking report was the effects of a recession on the ITAD industry. Cascade and other ITAD vendors are experiencing increased labor and asset processing costs alongside decreased revenue from used equipment sales and scrap metal. According to the report, the demand for used mobile and computer equipment saw steady increases in the past couple of years. As a result of lower demand this year, prices dropped 19-25%, which is in line with pre-pandemic levels. Despite lower values, Cascade asserts that companies with IT asset management programs in place that minimize damage to devices, maintain a defined retirement schedule, and promote equipment reuse, can have an ITAD program that pays for itself by reselling their used high-demand assets.
More on Michimich.com
"We're happy to share the results of our ninth annual survey so that organizations can compare their IT asset disposition programs with others to identify best practices and areas for improvement," says Neil Peters-Michaud, CEO of Cascade. "Leaders in high-risk industries like healthcare, financial services, and IT services took the time to share information on their asset management programs. We appreciate their insight and will apply it as we deliver our core values of data security, sustainability, cost savings from resold assets, and customer satisfaction."
The report is available online at:
https://cascade-assets.com/cascade-benchmarking-report
Source: Cascade Asset Management
---
0 Comments