Trending...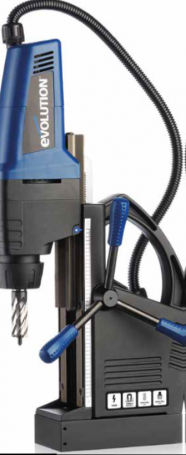 KBC Tools & Machinery announces that it is now stocking the Evolution line of heavy duty Metal Cutting Magnetic Drills and Circular Saws made especially for metalworking in Canada and The US.
MISSISSAUGA, Ontario & STERLING HEIGHTS, Mich.
-
Michimich
--
Now you can cut through mild steel up to 4 times faster, without heat build up or burrs…and less secondary re-work with KBC and Evolution's Circular Saws and Magnetic Drills.
KBC stocks
Evolution's 1.1/8" and 1.5/8" Magnetic Drills
with 2,860 lbs./f of magnet adhesion, ½" drill capacity, 2" maximum cutting depth, ¾" cutter shank, 10 amps, drill travel of 11.1/2", 8 ft. rubber power chord. The Magnetic Drills come complete with a coolant system to keep cutting edges cool and sharp, tri-spoke spindle handle, dovetail slides, and a 2 stage magnet which allows you to precisely configure the machine. At 26.5 lbs. these are light weight while still being heavy duty magnetic drills, and at a super affordable price vs other magnetic drills in the market.
More on Michimich.com
Accessories available for Evolutions Magnetic Drills include: step drills, countersinks, mini cutters, annular cutters, and carbide tipped annular cutters.
KBC also stocks
Evolutions's 7.1/4" Metal Cutting Circular Saw
– one of the lightest circular saws on the market to get the job done. The Metal Cutting Circular Saw features 0-45" bevel capacity, adjusting rear paddle lever to set the base plate in a higher position, 10 ft. power chord, channeled air flow and glass sight shield ensure you always have visibility of your cutting path, included parallel edge guide to make sure you are cutting straight, a mild steel blade that has fully hardened body plates with 40 tungsten carbide teeth that generate almost no heat, sparks, or burrs – that keeps your teeth sharper for longer resulting in more cuts and a great workable finish with virtually no heat, burr, or sparks.
Faster, safer with less secondary process work…and at a great price from www.kbctools.com.More on Michimich.com
Evolution has 25 years of metal cutting in The UK, USA, Canada, and more.
KBC Tools & Machinery
has been providing the metalworking industry with the best tools at the best prices since 1965: cutting tools, indexable tooling, fluids, work holding, abrasives, measuring & inspection equipment, toolroom accessories, hand tools, shop supplies, power & air tools, and machinery. KBC is proud to be a certified WBE company in Canada and a WBENC The USA. KBC is one of the leading metal cutting tool and machinery catalogue houses in North America with 3 showroom in Canada: Mississauga, ON; Oldcastle, ON; and Delta, BC; and 4 in The U.S.A.: Sterling Heights, MI; Sterling Heights, MI Machinery Showroom; Elk Grove Village, IL; and Fullerton, CA;
www.kbctools.com
-
All Metal...All The Time!
Source: KBC Tools & Machinery
---
0 Comments